Combine Dispersive Pipette XTRaction + SALLE (Salt Assisted Liquid-Liquid Extraction) for a novel cleanup mechanism
Method Overview
XTR tips can house sorbents like weak anion exchange (WAX) or reverse phase (RP) for cleanup and the salt (S) necessary for SALLE. Example: WAX-S or RP-S tips.
Salt dissolves in solution during aspirate/ dispense steps and acetonitrile separates due to increased ionic strength
Solution can be analyzed directly, diluted or solvent evaporated and reconstituted in LC mobile phase depending on the workflow/application
Ideal for applications that require acetonitrile for protein precipitation and are focused on hydrophobic analytes
Customize this method based on your workflow!
Generic Workflow
1a
Blood/Serum: Add I.S. + ACN
Protein Precipitate
Transfer Supernatant and add FA aqueous
1b
Urine/ Oral Fluid/ Other: Add I.S. + ACN + FA aqueous
2
Aspirate/Dispense sample solution
Transfer acetonitrile (upper) layer
3
Inject, dilute or solvent evaporate
Injection volume can vary or can include a specific concentration/ dilution factor
Benefits
Automation friendly pipette tips eliminate need for offline liquid-liquid extraction
This methodology works with a variety of biological matrices including: serum, blood, urine or saliva
Amount of sorbent + salt customizable
Workflow flexibility
Minimize required matrix volume
Provides sensitive quantitation and simplifies sample preparation
Rapid extraction process – aspirate/dispense steps take seconds!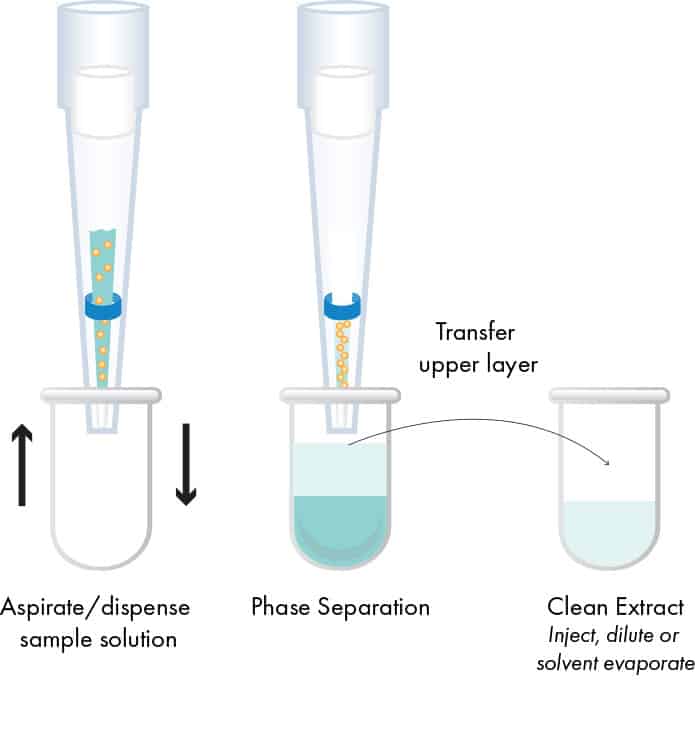 Clinical & Forensic Applications