For Immediate Release
Columbia, SC
March 7, 2019
Columbia, SC – DPX Technologies announces a new INTip™ solution that utilizes a patent pending Tip-on-Tip (ToT) technology. ToT technology was a natural progression of the DPX INTip product line designed to promote the simplification and automation of complex sample preparation. The ToT technology has two main methodologies: ToT Filtration and ToT SPE. This technology provides a fast, automated INTip solution for a variety of applications.
"The beauty of this technology is in the versatility. We partner with our customers to solve bottlenecks they are seeing in sample preparation. We are responding to customers' demands for enhanced throughput solutions," said William E. Brewer, Ph.D., Founder and CEO of DPX Technologies. "DPX products offer workflow solutions that are compatible with semi-automated and fully automated liquid handling systems. This enables high efficiencies and high sample throughput."
Tip-on-Tip (ToT) Filtration
ToT Filtration combines a conductive wide bore top tip with a bottom Filtration tip to provide an automated alternative to traditional filtration/centrifugation. This methodology is ideal for high-throughput online protein precipitation and filtration, beta-glucuronidase removal, or any other particulate removal. Filtration tips can be ordered in low porosity, dual phase or single phase.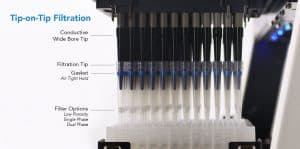 (click lightbox image for full size)
Tip-on-Tip (ToT) SPE
ToT SPE combines a top conductive wide bore tip with a bottom Filtration SPE tip. The Filtration SPE tip includes a disperser for optimal dispersive solid phase extraction conditions. ToT SPE is ideal for applications that require specific incubation conditions between sorbent and sample solution.
(click lightbox image for full size)
ToT SPE provides an automated easy-to-use alternative to traditional magnetic bead processes. ToT SPE is compatible with budget-friendly polymer- and agarose-based sorbents; designed to eliminate particulates in the elution and maximize the utility of the automated liquid handling system.
# # #
About DPX Technologies
DPX is committed to providing innovative sample purification solutions. We collaborate with our customers to provide the high-quality products they need for complex chemical and biological analysis.
Media Contact
Carmen Adamson