Customized INTip Solid Phase Extraction
XTR tips are completely customizable and manufactured to order per customer specifications. Therefore we do not have a generic catalog of products. We work with our customers to provide the best product that is tailored for an optimized workflow.
We try to help each lab save time and money. Our process involves understanding your current method and recommending a custom product designed to streamline sample preparation without compromising the integrity of results.
Example of Product Customization for Oral Fluid Extraction
Greater Recoveries with a Mixed Mode Product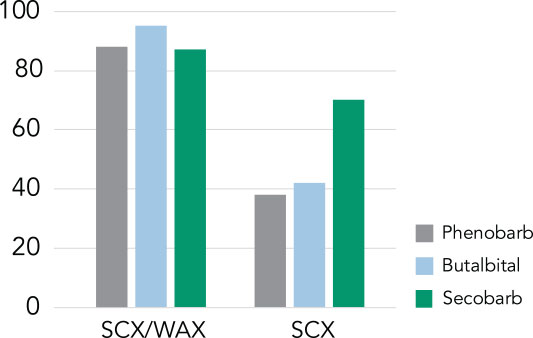 Cation exchange sorbent (SCX) is routinely used to extract a comprehensive panel of therapeutic and abused drugs from oral fluid. While SCX provides high recoveries of most of the compounds of interest, it does not provide high recoveries of barbiturates, as shown in the figure to the left. Unlike all other SPE companies, DPX's unique ability to customize products allowed the incorporation of weak anion exchange sorbent (WAX) along with the SCX sorbent in the same XTR tip to significantly improve barbiturates recoveries.
How to Order:
If you know exactly what options you want from these choices then feel free to fill out the product ordering form below and specify all the options.
If you are unsure which XTR Tip and sorbent to request for your protocol, please consider filling out a product request form. Our team of application scientists will be able to better recommend a product or help you with custom method development with your sample matrix, volume and method parameters provided. We offer confidential method development and on-site technical support to help you get through the validation process.
Other XTR Resources: