Sample preparation is required in order to minimize matrix effects due to both saliva and collection device buffer in oral fluid samples prior to LC-MS/MS analysis. Multi-step SPE column preparation and multiple extractions add to turn-around-time creating a bottle-neck in sample throughput for laboratories. To address these SPE limitations we have developed fast methods for comprehensive analysis of oral fluid samples using Dispersive Pipette XTRaction technology.
Unique Mixed Mode Sorbent to Ensure High Recoveries
This schematic depicts our unique workflow for oral fluid extraction for improved recoveries of certain classes of compounds, like the barbiturates. Our studies found that this mixed mode combination, Strong Cation Exchange/ Weak Anion Exchange (SCX/WAX), improved recoveries of barbiturates when compared to a traditional SCX approach.
INTip Methods
Methods using INTip solid phase extraction are highly reproducible and provide the sensitivity necessary for forensic and clinical purposes. We have different protocols designed for multiple collection devices and varying desired concentration factors.
INTip methods can be tailored to fit an existing workflow or automate a workflow.
We can help optimize and improve an existing method with INTip technology.
Starting oral fluid testing for the first time? We can recommend the best protocol!
Results for Comprehensive Extraction of Therapeutic/ Drugs of Abuse
Click the lightbox image to enlarge the graph.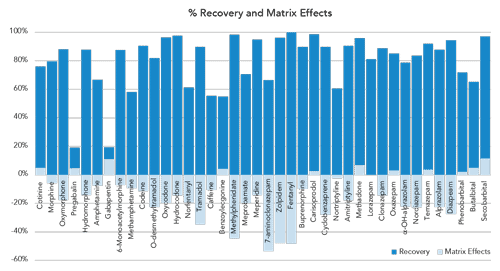 Analyte recovery following a single extraction of oral fluid with SCX/WAX XTR tips. Compounds of interest include opiates, benzodiazepines, common drugs of abuse, non-opioid analgesics, anticonvulsants, sedative-hypnotic, stimulants, antidepressants ad metabolites as indicated.
DPX Provides Customized Solutions for Each Client
Questions we consider when customizing an oral fluid extraction method:
What is the collection device for your oral fluid sample?

Our studies indicate differences in recoveries based on the collection device for the oral fluid sample. Therefore, we didn't take a "one size fits all" approach. We make product and method recommendations based on the collection device. We have solutions to overcome a variety of challenges in sample preparation of oral fluid, including variations in sample viscosity. 

What compounds are in your panel?

We found that our unique mixed mode SCX/WAX method described above performs better than traditional SCX for the barbiturates and other analytes. Just let us know what compounds of interest are in your panel and we'll make recommendations on the best sorbent chemistry and amount needed in the XTR tip for your workflow.  

What type of LC-MS/MS system do you have?

The LC-MS/MS system being used is another main factor in the sensitivity that can be achieved with a method. DPX will provide unique method recommendations based on each lab's unique requirements (collection device, sample volume, LC-MS/MS system/methods, workflow, etc.) to achieve desired cutoffs.